Catholic Military Connect app
Find answers to your questions inspired by the Christian view of war and peace
Sometimes in the military you face tough questions. The good news is that answers can be found! The Catholic Military Connect app offers users a range of possibilities: answers to military questions, prayers for the military, testimonies, inspiring quotes, and spiritual first aid. This initiative allows military personnel to come closer to God and to know and acknowledge him wherever they are. 
Download the free app now!
Hundreds of questions and answers about God, the faith, the Catholic Church...
Pray and follow Holy Mass in many languages as if you were at home!
Inspirational quotes, prayers, testimonies
Pray with the Pope's Worldwide Prayer Network
Scan the book Tweeting with GOD Military
Contact the Apostolat Militaire International or your national chaplaincy
All content available offline
"[The CMC app] will prove particularly useful […] for communicating the message of life, hope and growth in faith, and for making the situations in which military personnel are immersed both more human and more Christian". (Cardinal Pietro Parolin)
This app is developed in close collaboration with the Apostolat Militaire International (AMI) to help individual soldiers, sailors, and aircrew to find answers to their questions and grow in their faith. Thanks to the input of military and chaplains from various nations, the content is of a very practical nature, addressing the direct needs of military and chaplains in the field.
The Catholic Military Connect app is currently available in both the Google Play and App stores, for smartphones and tablets, in 8 languages: English, Italian, French, Spanish, Croatian, German, Portuguese and Dutch. The Catholic Military Connect app is fully available offline.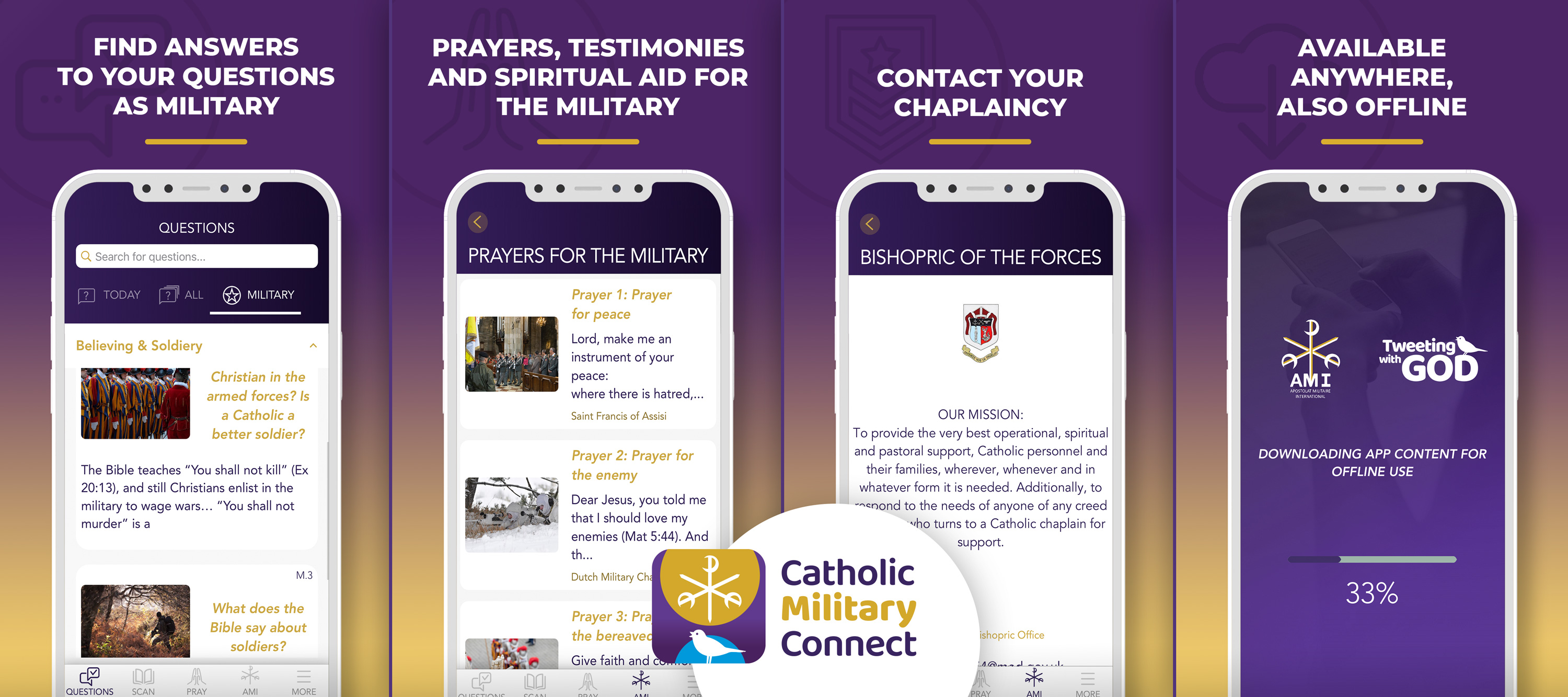 Find answers to your questions
Check out hundreds of questions about God, the faith, the saints, life & society, and answers related to faith and the military. Learn more and find encouragement to live your faith!
---
Spiritual first aid 
When things are not going so well, you can consult the section Spiritual First Aid to assist you. Find contact details of your national chaplaincy and the AMI in the app. You can also find testimonies of people like you and reflect on inspirational quotes to boost your morale and help you grow.
---
Prayers for the military
The app gives you easy access to prayers which can help and inspire you, at home or on deployment, alone or together. Pray to God and ask the saints to join you! Be inspired by the stories of military saints whose example you can follow.