Volunteers
Make a difference! Become an Online Missionary!
"Here I am. Send me!" Isaiah 6:8
Do you desire to share your faith with others?
Do you want to bring fun and deep fulfilment to your life?
Do you want to be part of an international team?
And do you have some free time?
Join our fun and joyful international team of volunteers!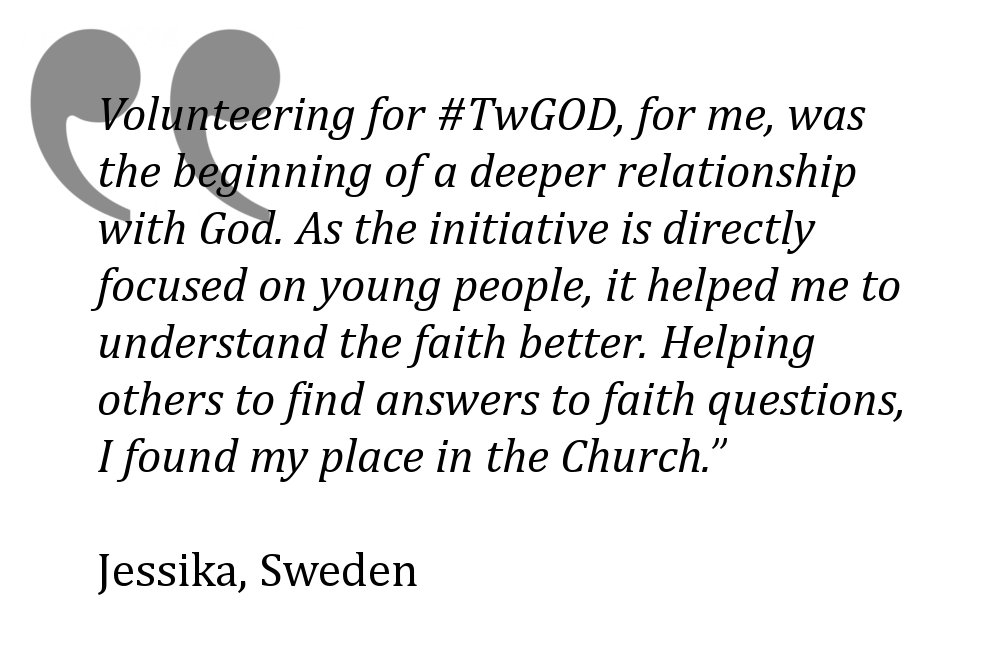 Tweeting with GOD is actively used in many languages all around the world. A lot of translations of the book are available. Social Media, Website, App, Teachers' manual, youth ministers' inspirations, and many other materials are being translated by volunteers from many languages and nations. We are supported by over 100 volunteers worldwide. They play a vital role for us, for without volunteers' help and commitment our work would not be possible. 
We are very grateful to all our volunteers from all around the world. 
You, too, can make a real difference by inspiring young people 
with your personal encounter with God! 
Join our team of online missionaries!
We need help in the following areas:
Translating and proofreading texts and posts in various languages
Writing and reviewing texts
Shooting videos and editing videos
Translating video subtitles
IT support
Social media
Can you speak English and another language? 
Dutch

Spanish

Italian

Chinese

Portuguese

French

Croatian

German

Czech

Polish

Arabic

Slovenian

Native English

Any other?
Let's communicate God's love all around the world!
To sign up as a volunteer, simply fill in the form below. 
Would you like to know more about volunteering? Send our Volunteers Coordinator an e-mail via volunteers@tweetingwithgod.com.